12 Dancers Dancing
Cambridge is donning its brightest and shiniest gay apparel this month with a dazzling assortment of holiday events that are sure to make even the grumpiest of grinches grin.  At Cambridge Dance Company, our hearts are aglow with excitement for this weekend. We are pumped to be dancing merrily in Honey Blonder's annual tradition: 12 Dancers Dancing…A Christmas in Cambridge.  This showcase is diverse, collaborative, offbeat, lively and straight up F U N.  It's an excellent way to get a taste of the varied groups which comprise the vibrant local dance scene.  
While the audience will experience everything from ballet to hip hop, what they typically don't see are the countless hours, sweat, tears and miracles that go into pulling it all together.  It takes a pretty phenomenal, flexible and patient person to create a show with 18 different companies.  EIGHTEEN.  That's at least 18 different choreographers, 18 different soundtracks, 18 different sets of cues, 18 different pieces of program information, and who knows how many dancers to contact, corral, and coordinate. So, um, yeah, patient indeed.  The woman behind this incredible feat is Honey Blonder – a modest, down-to-earth, selfless woman with a shocking mane of dark hair.  
Want to know what motivates her to take on this herculean task year after year?  Me too.  So I asked her, and here is what she said.
When did you first start 12 Dancers Dancing, and what inspired you to start this awesome tradition?
I started 12 Dancers Dancing in 1999, so this year will be year eighteen!  Looking back, I think that my original inspiration came from holiday music and movies.  As a dancer, I started to think about dance as a way to also explore the many, many themes and emotions connected to the holidays.
What motivates you to keep doing this every year?
Well, producing 12 Dancers Dancing gives me great satisfaction.  Even when it's not so fun, the challenges are worthwhile.  I like creating, I like the details, and I like the collaborations.
How has the show changed over time?
Each year brings new dancers, new companies, new ideas.  Dancers and choreographers bring their own stories, their own special something, and they create the show.  It's lovely to watch.
What's new this year?
Steffani Bennett will sing Leonard Cohen's "Hallelujah" at the top of the show, which is very, very special.
What can a first time audience member expect?
They can expect an engaging evening, full of dance and music.  The space is intimate and relaxed, and it's a wonderful chance to see so many companies in one place at one time!
Give us the 411, please!
When: Friday, December 16 at  8 pm; Saturday, December 17 at 8 pm
Ticket space opens at 7 pm; Performance Space opens at 7:30 pm
Where: Dance Complex, 536 Massachusetts Avenue, , Cambridge MA 02139
Tickets:   http://www.brownpapertickets.com/event/2712990
Other goodies: Cash bar with beer, wine and soft drinks.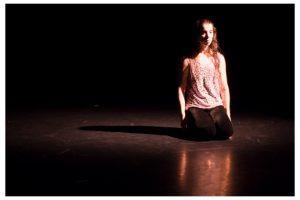 Honey Blonder started dancing in New York City at the Lee Strasberg Theatre Institute where she studied dance, theatre and voice. Her choreography for film has screened at the National Film Theatre, London; the Museum of Fine Arts, Boston; the Boston International Festival of Women's Cinema; the Ivy Film Festival at Brown University and the First Glance Film Festival in Philadelphia. Honey choreographed and danced in New York and Boston with performance art / recording artists "Countess" created by Cynthia Von Buhler.  She received a Boston Music Award nomination for Best Live Act. Honey is the choreographer of her dance company "Disco Brats" and their performances include the Museum of Fine Arts Boston, The Dance Complex, Green Street Studios, The Cutting Room (NYC), Berklee College of Music, Hynes Convention Center, Paradise Rock Club and the Middle East Rock Club. Honey created the holiday dance show "12 Dancers Dancing…A Christmas in Cambridge" and produces the event at the Dance Complex each December.  Honey currently teaches dance at the Dance Complex in Cambridge.  Honey has also taught at Boston University, Berklee College of Music, Jeannette Neill Dance Studio, MIT, Gann Academy, BCAE, CCAE, Impulse and Green Street Studios. Learn more at: http://www.honeyblonderdance.com/index.html