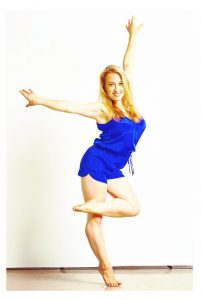 Meet Julie Judson – our current guest choreographer. Julie is creating a flirty and fabulous new work for us inspired by some of the biggest names in jazz dance.   Hear about her inspiration, process and challenges, and see a sneak peek from rehearsal.
Question: What is the inspiration for this piece?
Answer:  I love that this is a piece I'm choreographing for all women.  Usually I choreograph pieces that include both female and male dancers, so it's fun to play around with movement that is both athletic and somewhat masculine while still mixing in confidence, attitude and grace of strong women.  The song, "Devil May Care" by Jamie Cullum, has always struck me as really playful and kind of haughty without taking itself too seriously, and I want to convey that in the choreography.  
I'm also extremely influenced by a few of my personal heroes from a bygone era of dance: Bob Fosse and Jerome Robbins, as well as the Gene Kelly, Fred Astaire & Danny Kaye movies from the 50's.  My style of choreography has been informed by the way all of those men danced, choreographed, and thought about how movement should look on stage and camera.  There's lots of winks to pretty much everything Fosse ever did (he's my guy!), the passion, power and playfulness of the Jets' movement in "West Side Story," and some more subtle throwbacks to movies like "White Christmas" and "Singin' in the Rain."  
Question: Describe Your Choreography Process
Answer: I'm not great at choreographing to counts (as the dancers can absolutely attest to!).  I listen to the music over and over again – I really like to internalize a piece of music before I start teaching.  Sometimes, when I choreograph the musical cues are obvious – a big jump on a major drum kick, or a sly turn during a trumpet solo – but occasionally I notice that once a song has really sunk in with me, I'm choreographing on small subtleties in the arrangement, often without realizing it.  I think it makes the piece knit together better with the music.  
As far as teaching goes, I never use notes, and I'm not opposed to trial and error if I don't think something I imagined in my head looks as good on the company I'm working with.  I like to meet the dancers where they're at – I don't believe in giving people a triple turn for the sake of showing a trick.  I believe in looking clean, and having clarity of style, rather than doing something just for the "wow" factor.  And in general, I find that I'm most successful conceiving of movement phrases when I'm actually in motion – trains, planes and automobiles (when I can't actually dance at all) are where I get my biggest aha! choreography moments.  
Question: What has been your biggest challenge so far?
Answer: My main challenge so far has really just been choreographing for a set of dancers I don't know intimately!  Most often, I create pieces for dancers I have trained with for some time, or with whom I've previously collaborated.  In this case, I'd seen the company dance in a performance a couple of times before, but don't know each individual dancer's strengths well.  I'm discovering that in the rehearsal process, which is so fun, but I often have to place dancers in certain sections on the fly without much background on them.  I'm also finding the music to be extremely challenging, as jazz music can be!
Question: How are you addressing it?
Answer:  Well, I'm doing a lot of listening on my own and trying to get really comfortable counting the music to make learning the choreography easier for the company.  I'm also encouraging the dancers to listen to the music in their off-time so they can internalize it too, and get comfortable with the phrasing and syncopation so it's easier to just kind of live "in the pocket" and have fun with the movement.  Nothing I choreograph is ever technically super challenging, but it's stylized and very syncopated, so I want everyone to get comfortable with the music so they don't have to worry about that, and just enjoy dancing the piece.  
Question: What is your vision for the rest of the piece?
Answer: Only up, I hope!  We're about halfway through the piece right now and I think it's looking great.  We have the "big finish" to complete and some cleaning up to do before I leave it in the company's very capable hands to make it their own.  I can't wait to see how it turns out!
Question: Tell us a little more about YOU.  Do you teach anywhere?  Where can people find you?
Answer:  Oh goodness, I wish there was more time for dancing.  Right now, I only dance about once a week, and I mostly dance with the fabulous Stephanie Heroux as a member of her company, Jazz Inc. Dance.  Our most recent original production was a couple of years ago and I haven't done much performing since, but I'm lucky that I still get to perform in private gigs with Jazz Inc. on occasion, or teach an adult drop-in jazz class at Jeannette Neill Dance Studio every now and then.  I also still attend class with Stephanie and try to improve as much as possible, even though I'm an old dog now!  I'm very proud to still be pursuing my love of dance as a choreographer, teacher and on the occasions I perform with Jazz Inc.  Dance is such a big part of who I am and how I express myself, and it will always be my first great love.  I'm so grateful, too, to CDC for giving me this opportunity to flex some creative muscles and create alongside y'all!
Psssst! Here's a sneak peek from rehearsal.  You won't find it anywhere else but here!