Director Jessica Goepfert is restaging a work on Cambridge Dance Company that explores grief.   Learn about her vision, process and challenges, and see a sneak peek from rehearsal.
Question: What is the inspiration for this piece?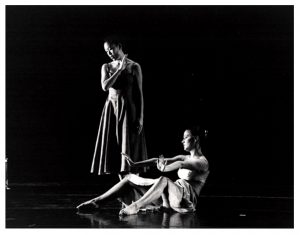 Answer:  There are two primary inspirations for this dance. The original piece was my senior thesis at Connecticut College.  My goal at the time was to create a work that combined my two majors, Psychology and Dance.    
I am bringing the piece to Cambridge Dance Company to honor Julie, my best friend from college, who passed away earlier this year.  Julie danced with me in the original version, and was instrumental in its creation.  It is my way to say goodbye.  
Question: Describe Your Choreography Process
Answer: When I initially created the piece, I struggled with developing a movement vocabulary.  This work was unlike anything I had ever choreographed.  To resolve this, I turned to two techniques.  First, I drew from sign language.  Although the signs are manipulated quite a bit, if you look closely, you may recognize a few.  Second, I choreographed some sections to completely different music.  Janet Jackson's "If" to be exact.  Once I had some new phrases, I played with the steps, slowed them down, molded them, combined and unraveled them to make them work in the piece.  The process is less interesting this time around. I am mainly watching the video and reworking a few sections, but still staying true to the original movement vocabulary.
Question: What has been your biggest challenge so far?
Answer: As a choreographer, my biggest challenge has been resetting the piece on twelve dancers.  The original was for five.   I love working with large groups, but I have a tendency to over-complicate and over-layer sections.  Right now I am at a point where I want to streamline and tighten up a few parts.
I think the biggest challenge for us as a company performing the piece is finding the balance between dancing together and dancing with the music.  The music is an exquisite piece by Rachmaninoff called Vocalise.  There are no easily definable counts, no specific markers to which any section needs to align.  No right or wrong.  The dancers must feel the connection with each other as well as the music.  When it happens in rehearsal, I literally get chills.
Question: What is your vision for the rest of the piece?
Answer:  I hope anyone who has loved and lost may find some comfort and strength from this work.  
Catch a glimpse of us practicing here:
https://youtu.be/e9AlSHFIucc