Interview with Choreographer Megan Finley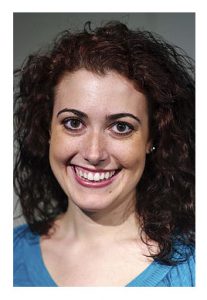 We recently had the pleasure of working with choreographer Megan Finley, big sister to our very own Erin Spahr.  Megan gives us an inside look at the inspiration for the piece, her process and challenges.  
 Tell us a little about yourself.
My name is Megan Finley, and I'm a choreographer originally from Indianapolis, Indiana.  I now reside in Las Vegas, Nevada where I'm the owner and director of the dance studio, Captivation Dance Affiliates.
 What is the inspiration for this piece?
The piece is entitled "The Journey". It began as an exploration in movement from one side of the stage to another.  However, as I examined the theme more thoroughly, I felt as if the audience were experiencing a brief moment in the lifetime journey of these dancers.  As we exit one stage of life and enter another, our joy, fear and emotions are exposed for that instant.  Yet, life is made up of a series of moments and will continuously move forward, as demonstrated by the end of the piece.  There is no resolution, because life has no resolution.    
Describe your choreography process.
My choreography process begins with a piece of music to which I feel drawn.  After listening to the music, I begin to develop an idea, theme or emotion.  Once I've settled on a "big picture" concept, I begin to create the story in my head, all while allowing the music to guide me towards movement which compliments the composer.
What is the most common challenge you experience when choreographing?
The most common challenge I encounter while choreographing is lack of time.  I truly feel that dance is a collaborative art form; I thrive when I can take the time to connect with each dancer on a personal level.  I love to explore movement and can often become too engulfed in the process, as opposed to the ending result.
How do you handle this challenge?
The way in which I constantly tackle the challenge of time is to enter a rehearsal with clear intentions of what will be completed that day.  Whether it is a short phrase or an entire piece, setting a clear intention with myself as well as the dancers allows us to stay focused and on task.  
Where can we find you?
Next time you're out in Las Vegas, feel free to stop by our studio, Captivation Dance Affiliates! Come take a tour or try a class.  It was such an honor to work with the Cambridge Dance Company, and I look forward to working together again!